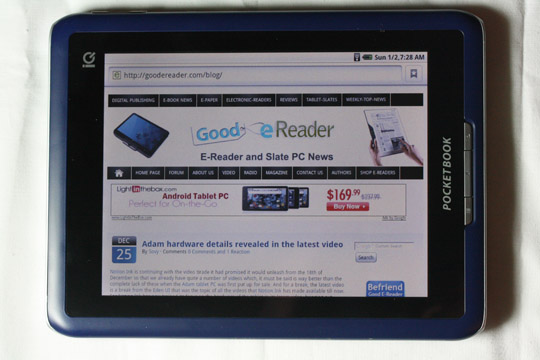 Hands on Review of the Pocketbook IQ 701 e-Reader and Tablet PC | Good E-Reader Blog - Electronic Reader and Tablet PC News
:
"The Pocketbook IQ is the best entry level tablet investment bar none. You can pick one up for a paltry price of $139 US and has way more functionality right out of the box then most other budget tablet computers.

We find the fact it has tons of content right out of the box to be a tremendously endearing factor. It also allows you to visit many other alternative markets to get applications that you find yourself enjoying the adventure of finding new applications and installing all of your favorites."
A good reference review if you're looking at all of the other cheap tablets out there. A key fact for me is the battery life of 7-12 hours. Most cheap tablets have a 2-4 hour battery life.