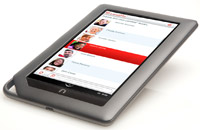 Nook Color Wins Last Gadget Standing "People's Choice Award" at CES
Yesterday the Nook Color managed to win the People's Choice Award at the Last Gadget Standing competition at the Consumer Electronics Show in Las Vegas.

It was up against some strong competition. The top ten finalists included a dual-screen laptop from Acer, a new chip from Intel, a video camera that shots 3D, the popular Nexus S Smartphone, a portable scanner, and some other cool gadgets.
Cut the price on the Nook Color in half and I'd get one in an instant. This reader will do more to open doors for Android tablets than any other product.