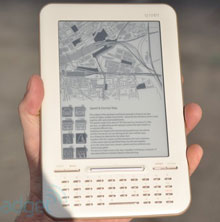 iriver Story HD e-reader preview (video) -- Engadget
:
"Our trailer was just visited by an iriver rep bearing his company's Kindle killer in waiting, the Story HD. This 6-inch e-reader touts a bodacious 1024 x 768 resolution, which contributes to an even better contrast ratio than on Amazon's E Ink slate, while software optimizations between now and release are expected to make the Story HD the fastest-refreshing device of its kind."
There is still room in the market for high quality e-readers. Besides the custom firmware and software, the 3 week battery life is the most telling indicator of a dedicated e-reader vs. a modified generic tablet.